Have trouble figuring out how to include a link in your LinkedIn bio? Continue reading to learn everything there is to know about the LinkedIn bio.
With over 45 million people using LinkedIn for work every week, being seen on the network can translate to more leads for your business. But it's not as easy as it sounds. Until recently, the only way to display your work, portfolio, or website on LinkedIn was through your contact information or at the bottom of your profile page in the experience section.
Knowing that the introductory, or "top of card," area of a bio is what most recruiters check first, users have been asking, "How can I add a link to my LinkedIn profile?" Thankfully, LinkedIn has joined the likes of Instagram and Tiktok in allowing users to add a 'Link In Bio' section.
Here's everything you need to know about LinkedIn bios: what they are, how they function, and why you should add more links to your LinkedIn bio.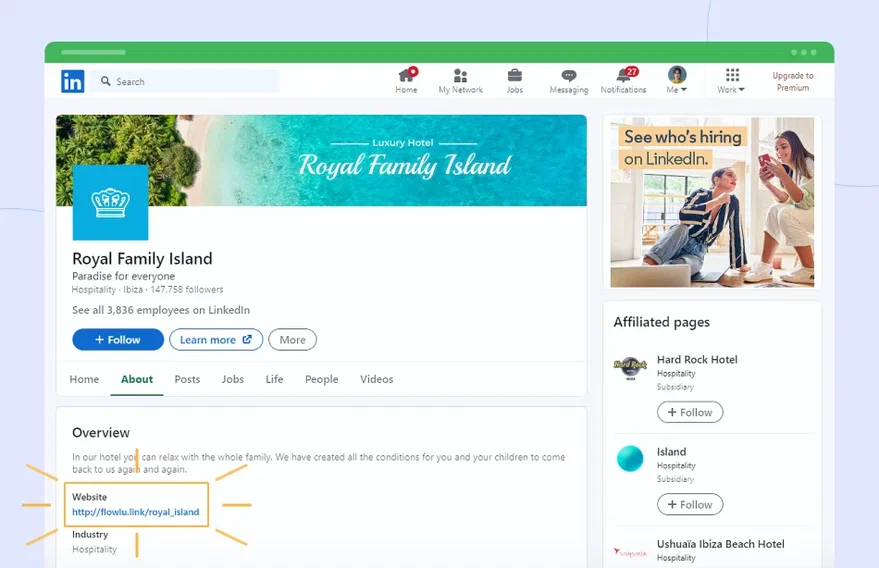 What is LinkedIn's link in bio?
LinkedIn's new profile section update allows anybody with a creator account to add a single, visible link in their bio. This means that you can now add as many links as you want to LinkedIn by adding your Flowlu link. In the past, you could only hide three links in your contact information.
When potential employers, clients, or followers see your profile, they can immediately access your work, CV, social media, or content. And, although showcasing previous work and skills on LinkedIn has never been difficult, the upgrade provides another avenue for users to take their connections a step further and employ LinkedIn to establish a community.
It will also make it easier for LinkedIn users, regardless of industry, to expand and monetize their following—both on and off the site—and to establish a genuine network.
How to Add a Link to Your LinkedIn Bio
Step 1
Adding your Flowlu link to your LinkedIn bio may not appear clear at first, but this is because you must first switch your LinkedIn to creator mode.
(To do so, go to your LinkedIn profile's resources section and select 'creator mode.')
Step 2
After you've enabled creator mode, go to your profile and select the 'edit' option.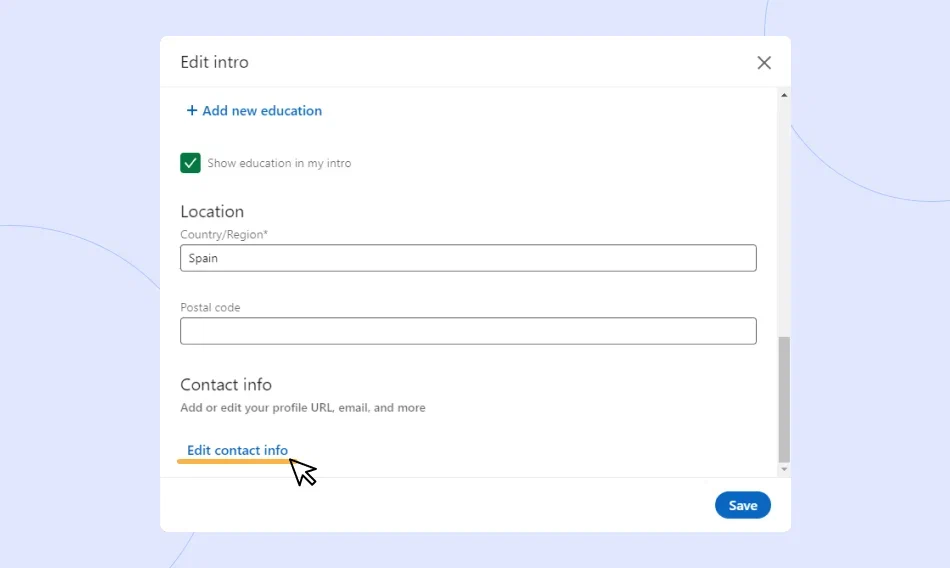 Step 3
In the 'website area,' you can add a link that will appear at the top of your profile.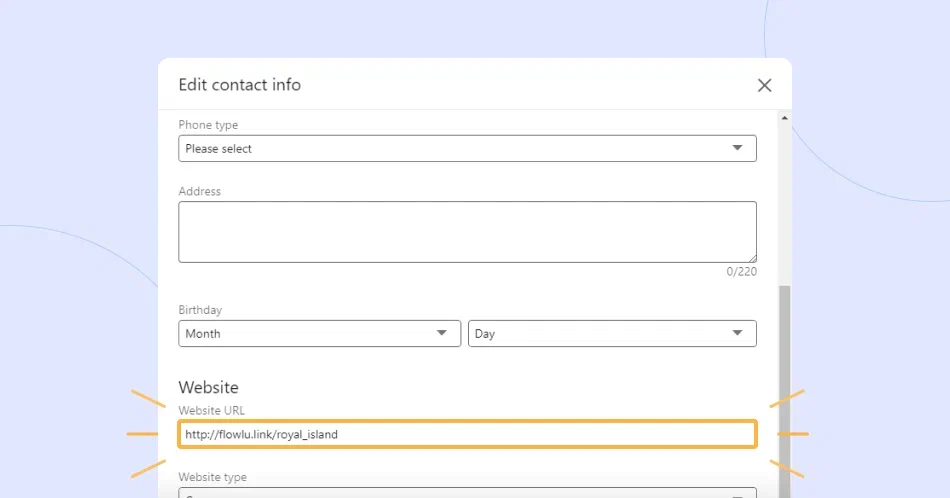 This link will be prominently featured in the 'top of card' area of your bio, implying that it will be the first thing recruiters or followers click on. Because you only get to add one link, LinkedIn users can now add their Flowlu link—so they can exhibit as much work, experience, or information as they like.
What does this imply for users?
LinkedIn users in any business will find it much simpler to stand out and connect with the appropriate connections. Creators and artists who had trouble showing their work on the site before will benefit the most from the new update.
Unlike in the past, they no longer have to rely solely on posting featured posts or videos to their profile as an experience; instead, they can direct potential followers directly to their portfolios and social media.
This feature is also excellent news for the platform's business users. Having a "Link in Bio" makes it easier to share resumes, recommendations, and awards. It also makes it easier for recruiters to find and sort potential candidates.
LinkedIn is embracing the creator economy
One of the most interesting aspects of LinkedIn's new addition is that it demonstrates how, like Flowlu, LinkedIn is becoming a major player in the creative economy. LinkedIn just introduced a creator mode to the platform, and by including a link in the bio, they're now assisting creators in using the platform to grow an audience rather than merely network.
Anyone looking to grow their audience and attract customers to their business can now utilize LinkedIn bio as a traffic source. Flowlu.link allows businesses, like restaurants to create unique QR code menus for their LinkedIn bio. Users can also generate QR codes for other web pages and services. This is expected to increase engagement for business pages and get customers interested in your offering and accessing your product or service page.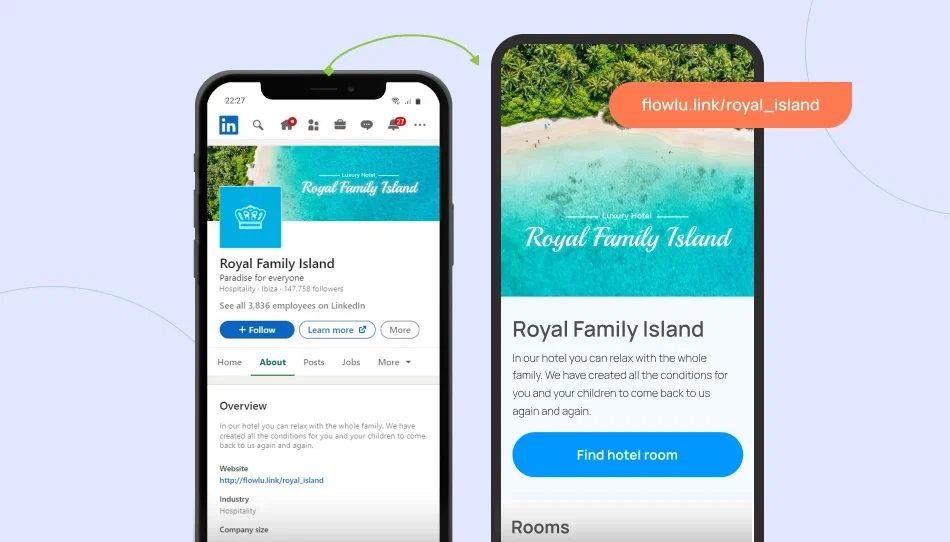 Finally
If your Flowlu link isn't listed in your LinkedIn bio, now is the time to add it. The new 'Link in Bio' function will make it simple for anybody to get their content and brand in front of connections that want more than just entertainment. Whether you're a creative looking for a new audience or a professional looking to show employers that you have more to offer, LinkedIn is now offering you the opportunity.