You're probably aware that adding a link in your TikTok bio is a powerful traffic generator for your business and website. However, TikTok limits users to adding only one link in their bio. But, having only one link in your bio can be restrictive.
When you use Flowlu's TikTok link in bio feature, you are not restricted to one link in your profile page only. It turns your TikTok feed into a clickable landing page that works well on mobile devices and lets you give each of your scheduled videos a unique link.
So, you can increase website traffic, get more people to sign up for your email list, or promote a new product launch. With Flowlu, the possibilities are endless. In other words, it's the best tool for improving conversions and linking opportunities of your bio.
We'll now show you how to do add links in your TikTok bio and posts to increase conversion and your TikTok marketing methods.
Steps to Add Your Link in TikTok Bio
TikTok, like Instagram, allows you to add a clickable link to your profile. This gives your followers additional information about you, your products, and business. Here's how to add a TikTok link to your bio:
Step 1:Launch the TikTok app on your smartphone.
Step 2:Go to Your Profile
Step 3:Add a Website
Finally, click "Edit profile," then "Add Your Website," and enter your website's URL.
You have now successfully added a link to your TikTok bio.
NOTE: The website field is only available to Personal Accounts that match specified criteria and Business Accounts with over 1K followers.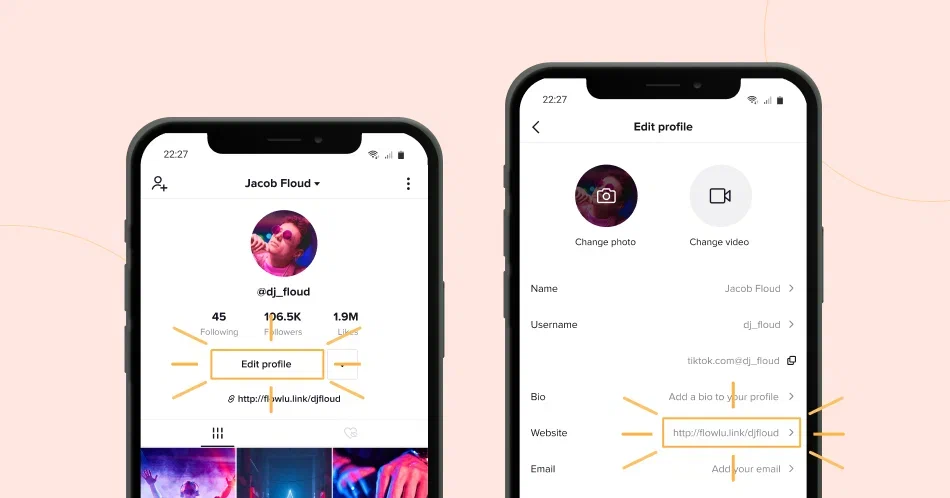 How to Create Your Link in Bio Using Flowlu
Because TikTok only allows you to include one clickable URL in your bio, it's critical to optimize it as much as possible. Instead of manually updating links, this will save you a lot of time and work. It's a win-win situation. To connect Flowlu's link in bio to your TikTok profile, follow these steps:
Step 1: Connect your TikTok and Flowlu accounts
Sign up for (or login to) Flowlu, then select "Add Social Profile." Select TikTok and sign in with your account.
Step 2: Create Your TikTok Flowlu.link Page
You can add an endless number of clickable buttons, social media links and a linked version of your TikTok posts. There is also the option to feature a YouTube video using the TikTok Flowlu.link landing page customization tool.
Go to the Button Block tab and choose Edit to add connected buttons. Copy the URL, then paste the button content. There is no limit to how many buttons you can use. The buttons you add will show up on the landing page preview as you add them.
To add a linked version of your TikTok feed, go to Linked Social Posts and click Add. Then, under your TikTok profile, click Manage. Copy the URL you want the TikTok post to drive to and paste it into any black and white TikTok post on the side of the screen.
To add featured media, go to Edit > Featured Media. You can include a YouTube video or your most recent linked Instagram feed post.
Go to the social network area and choose 'Create' to add social links. You can connect your all your social media handles, including Facebook, YouTube, Google My Business, LinkedIn, WhatsApp, Pinterest, etc.
Go to Profile > Edit and write a short landing page bio to add bio.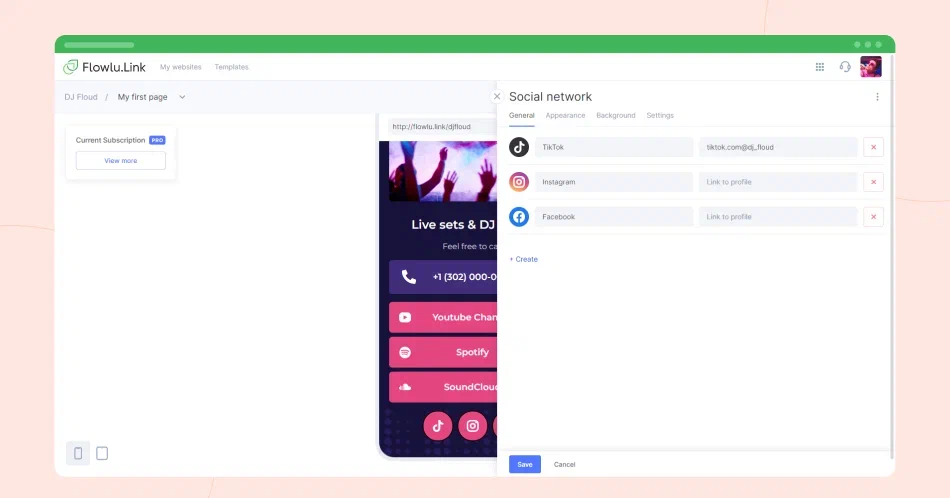 Step 3: Customize Your Flowlu.link Page
Flowlu allows you to completely personalize your page. Flowlu's built-in themes are Light, Dark, Almond, Pistachio, Sandcastle, and Aquarium.
You can take it a step further and match the colors, buttons, and fonts of your landing page to your brand's look. You can choose the hex color codes to perfectly fit your brand's look. You can customize everything about your landing page buttons, from the button color to the shape, style, and shadow.
Step 4: Add Flowlu.link to Your TikTok Profile
Copy your unique Flowlu link to your clipboard and open TikTok on mobile to add it to your TikTok profile.
Tap "Edit Profile," then enter the website address in the website field.
NOTE:The website field is only available to Personal Accounts that match specified criteria and Business Accounts with over 1K followers.
That's all – you now have a little clickable website right on your TikTok profile!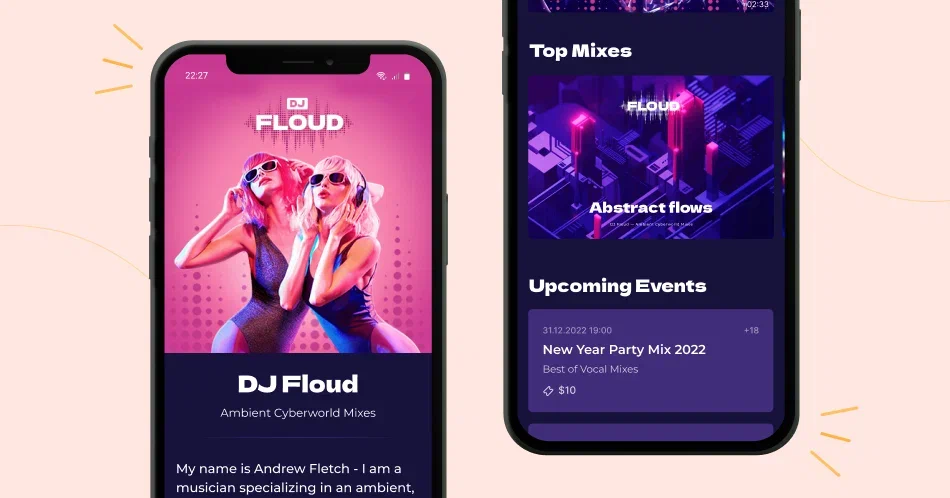 Why Should You Use Flowlu's link in bio as Your TikTok Link in Bio Tool?
When choosing the best TikTok link in bio tool, consider what characteristics are crucial to you.
You can do the following with a Flowlu free plan:
Unlimited number of button links
Make a hyperlinked version of your TikTok stream
Customize your page by using different colors and fonts
View click statistics for up to three months
Feature a YouTube video or recent blog article.
Add links to social media pages
You can access more useful features by upgrading to the Pro plan, which includes:
12 months of click data
More branding options
Unlimited workspaces and access management.
An unlimited number of users
Your design with CSS and JS
Facebook Pixel Compatibility
Hide the logo at the end of the site
Internal statistics
And there's more!
Flowlu is the best link in bio tool for you if you want to drive more TikTok traffic to your product pages or other landing pages.