Social media networks are incredibly powerful for all businesses. So, if you still don't have a website, you should consider having a mini-website built directly into your favorite social media platforms. No matter if you prefer Instagram, TikTok, LinkedIn, or Twitter, Flowlu.link covers them all.
With Flowlu.link, you will not only be able to display all the content you want but also in an attractive and engaging way. After all, you want to make sure that you attract as many customers as you can.
10 Reasons Why You Should Consider Flowlu.link
Although you may be thinking that getting your mini-website built into your favorite social media platforms may be difficult and take too much time, with Flowlu.link you can set it up and have it run with a few clicks and in no time.
Here are just some of the reasons why you should consider Flowlu.link:
#1: Easy To Use:
Simplicity is key. And this is exactly what you get with Flowlu.link. Using a simple and intuitive platform, you can easily make all the edits you want with just a couple of clicks. All the menus are carefully placed so you can find everything you need at glance.
With Flowlu.link, you don't need to hire a programmer or a designer to get the job done. You can do everything all by yourself within a couple of hours.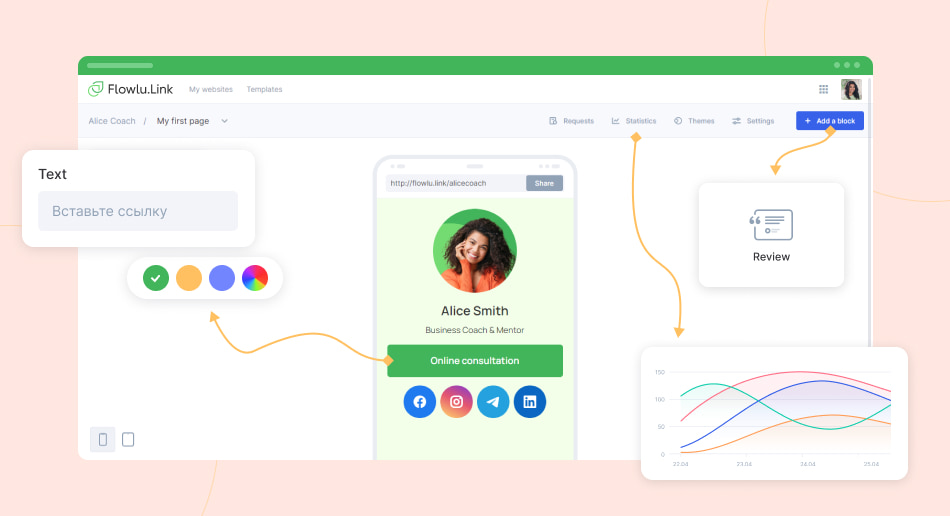 #2: Mini Landing Page:
With the Flowlu.link award-winning website builder, building your own website has never been so easy. As we already mentioned above, you don't need to be a programmer, a designer, or even know a single line of code. Within minutes, you can finally have your website up and running, ready to welcome your customers.
With our website builder, you can create as many pages as you want and make all the changes you need. From adding images to embedded videos, adding links and your special content, attracting and engaging with your customers and potential customers is now possible in a simple way and without a huge budget.
In case you need to keep changing some parts of your content regularly, you can also do it with Flowlu.link without any hassles.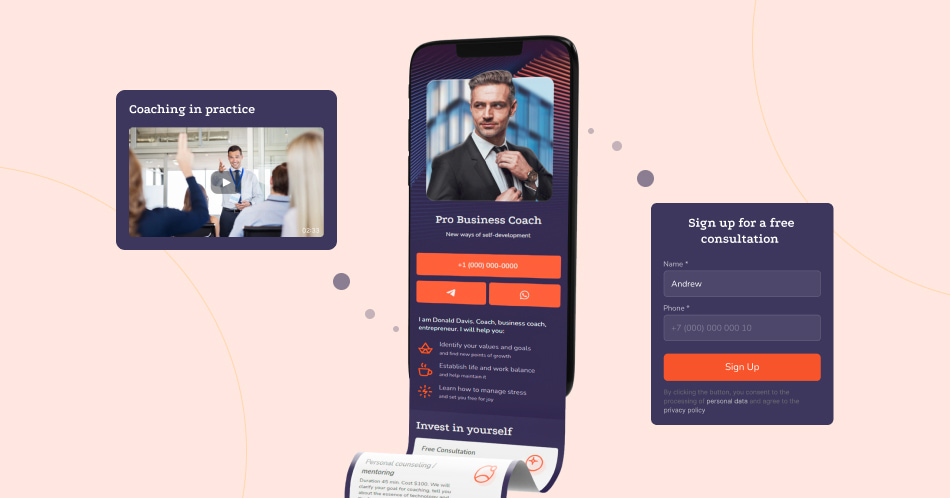 #3: Link In Bio Tool:
If you like to use Instagram, you probably already know how important it is to have a link in the bio tool. After all, it is crucial for driving traffic to your landing page or maybe even directly to a product or service that you're selling.
The reality is that adding a link in the bio tool isn't difficult. But you want to ensure that you get the most out of it. While some social media platforms allow you to easily add a link, Instagram is a bit different. In case you don't know, you can only publish links via Instagram Stories if you have more than 10K followers on your account. If this isn't your case, you can only add one link in your bio.
It's important to keep in mind that although Instagram Stories can bring some traffic to your website, they're not long-lasting. So, the best way to add as many links as you want on your Instagram account is to add these on your own page. Then, on your Instagram bio, you can add the link to this dedicated page. By doing this with Flowlu.link, you'll not only improve user experience as well as you'll get a lot more potential leads for your business.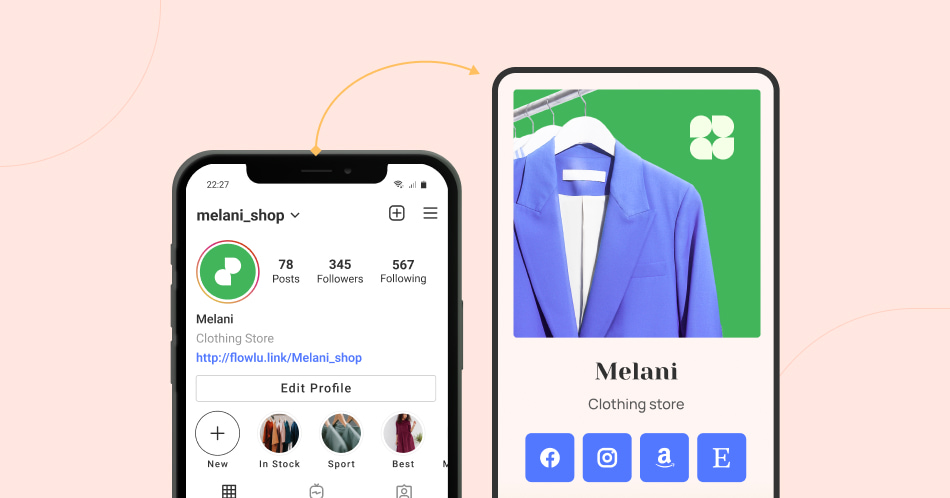 #4: Templates:
You don't need to be a designer to use Flowlu.link. After all, our website builder already comes with a wide range of templates that you can use and edit in any way you want.
When you log in to start using Flowlu.link, you'll see all the templates divided into categories so you can easily choose the one that fits your business best. From Music to Business, Restaurants to Sports, Resorts, Events, and many more categories are available. All you need to do is to choose your favorite one and start editing it.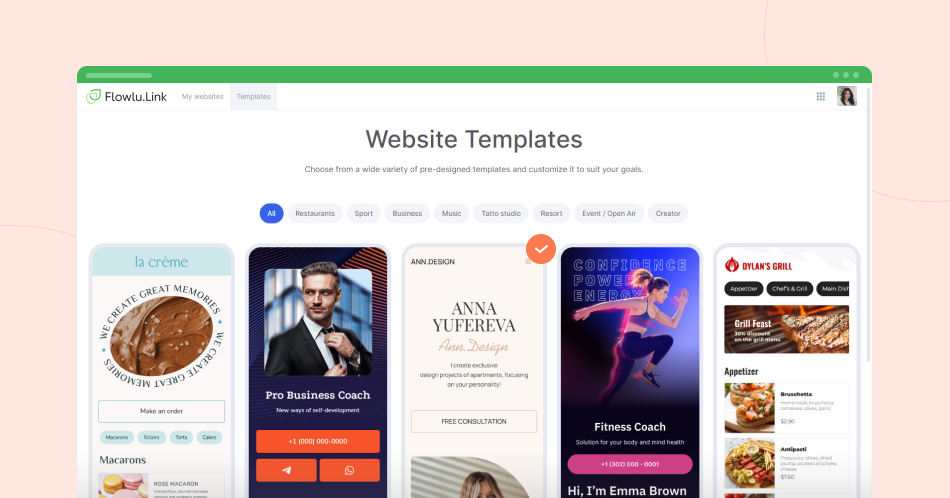 #5: Shop:
With Flowlu.link, you can easily have your own shop. The truth is that most businesses don't sell only one product or service; they sell several. So, if this is your case, you'll be glad to know that more than a landing page, you can also have your shop and allow your customers to buy from you in a simple and secure way.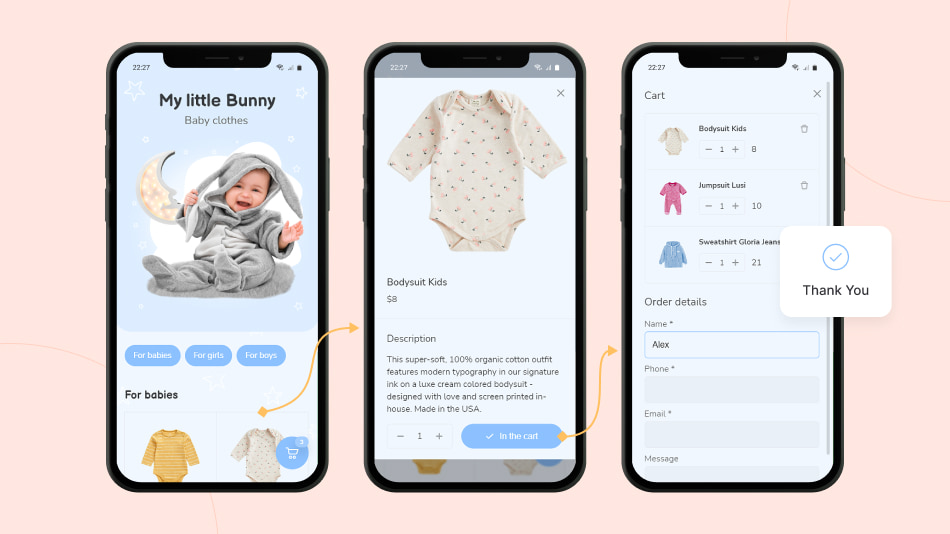 #6: Event Announcement:
As a business owner, you know how important it is to hold events from time to time. This is a great way to engage with your customers and potential customers as well as to create some brand awareness around your business. No matter if you are planning on organizing a giveaway or contest on Instagram or if you simply want to promote your new podcast or video, you can easily do so with Flowlu.link.
But more than special events, you may need to have a calendar with classes or lessons. With Flowlu.link, you can easily create this type of calendar and make it available to your students so they can save all the events with just one click. This will make your student's life a lot easier and they will certainly appreciate it.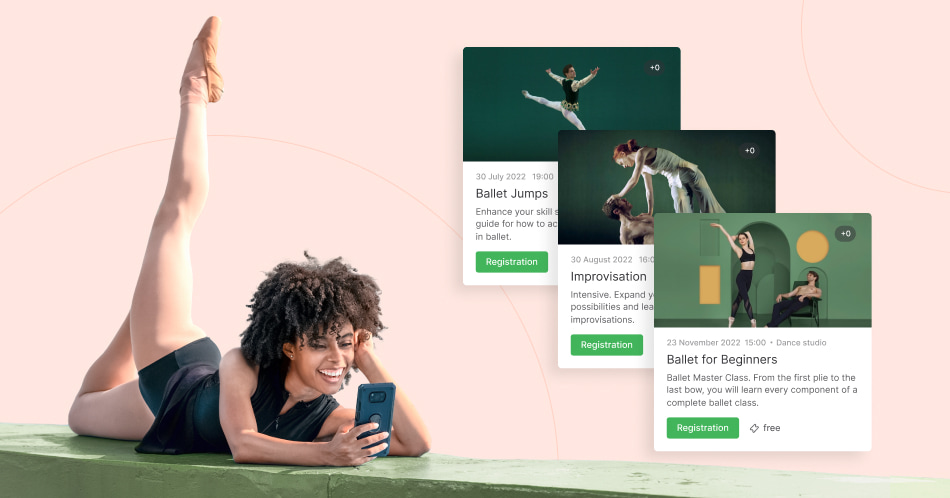 #7: QR Code Menu:
If you own a shop, restaurant, coffee shop, or bar, QR codes can be extremely useful. After all, this is a great tool that helps your customers order with just a few clicks.
For you, using QR code menus will allow you to save a lot of time not to mention that you can start offering cashless payment transactions. For your customers, the QR code menu allows them to easily view the menus, make reservations, and even place their orders online.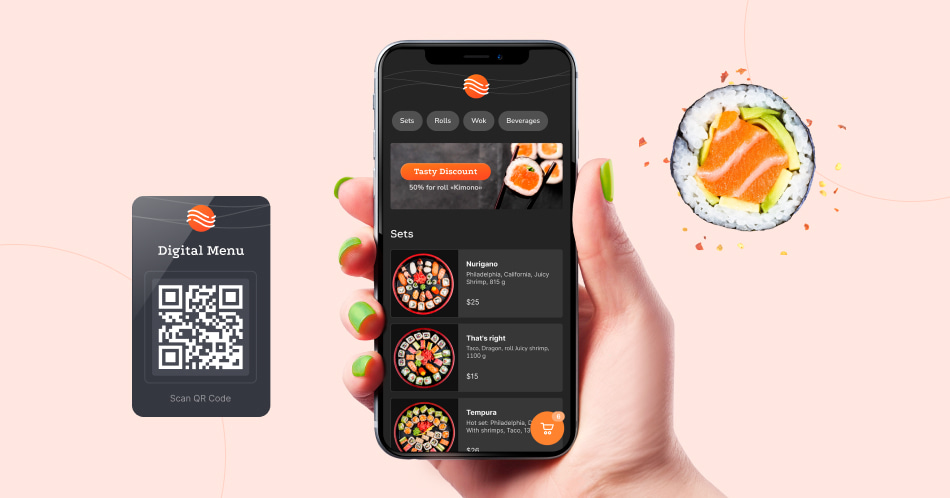 #8: QR Code Business Card:
While some businesses don't rely on business cards anymore, some still do. Just think about real estate agents. But more than a business card, with Flowlu.link you can now have a QR code business card.
Simply put, a QR code business card is a card with a lot of information that you could never have in a traditional business card. Besides your name and contact information such as your address, phone number, and email, your customers or potential leads will also be able to check your website, a customized landing page, a social media account, or any other page, when scanned.
The good news about having your own QR code business card is that you can link it to anything you want. You may prefer to send your leads to a specific landing page, to your favorite social media page, to a photograph, a Google Maps location, or anything you want. It's that versatile. In addition, you'll be glad to know that Flowlu.link QR Codes now allows you to attach your business card to more than 20 different social networking networks.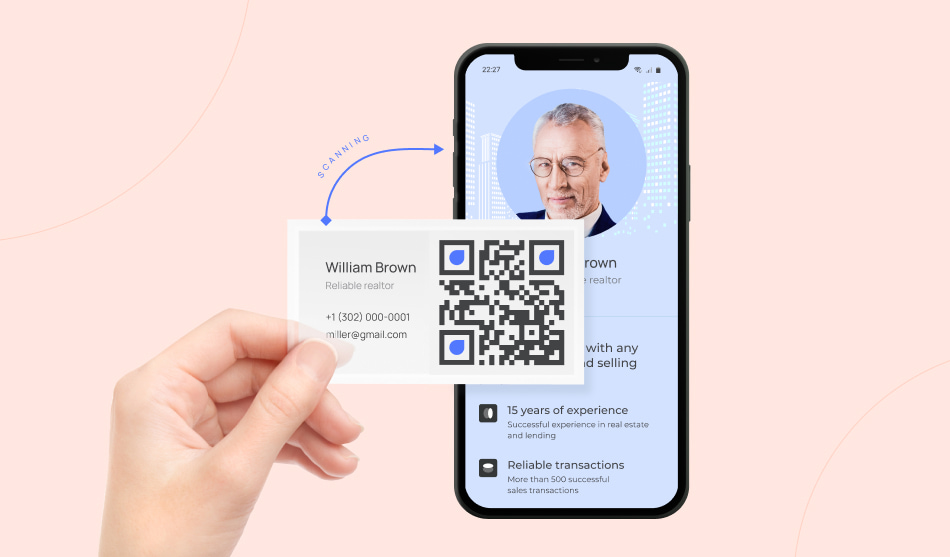 #9: Analytics:
When you have a business, you always need to keep track of analytics. The truth is that measuring and tracking who is visiting your website, how they are interacting with it, the page they use to enter your website and leave it, and how much time they spend on it, among many other analytics are incredibly helpful. After all, checking your analytics often allows you to better understand your audience and what they are looking for. If your visitors keep leaving your website on a specific page, you may want to check it and try to improve it. If your bounce rate is high, you may want to start being more compelling in your message.
Ultimately, your website is never completed since there are always ways to improve it and, therefore, to keep your business growing. This is why analytics is so important. With Flowlu.link, you can not only have access to our own analytics feature as well as you can also use Google Analytics if you prefer.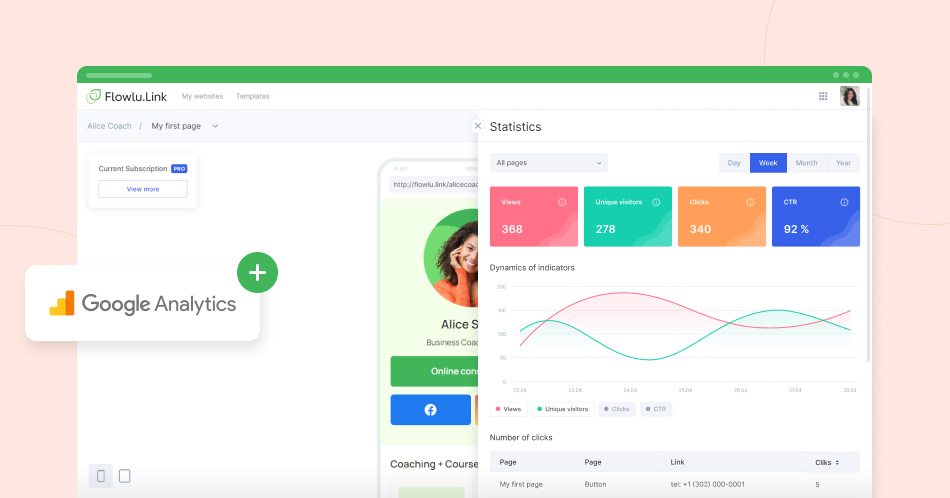 #10: Shared Access:
As a small business owner, you are used to doing almost everything related to your business. However, you may need to dedicate more time to other parts of your business and not only to your website. So, you may have the need to share part of your responsibility with your team and you can easily do this with Flowlu.link.
With Flowlu.link, you can create separate accounts for your team to manage your website. You can specify their roles to ensure they don't access to restrict information, for example.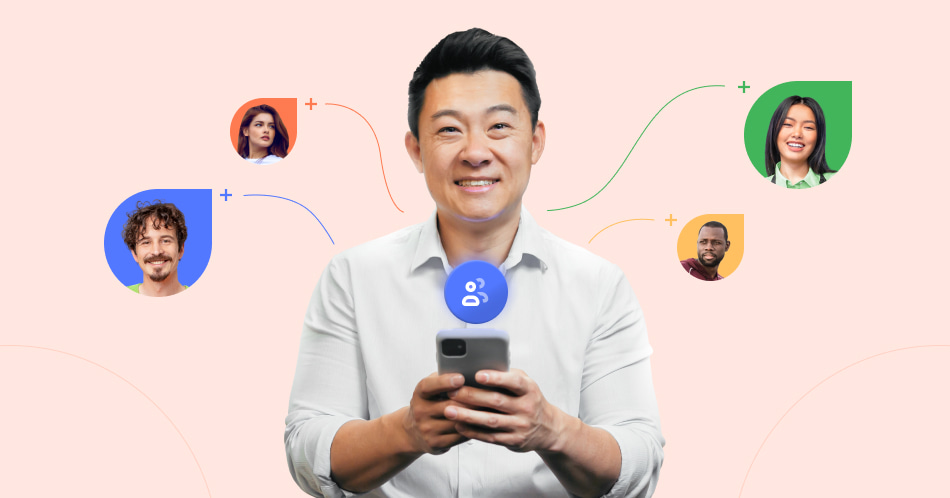 Bottom Line
If you want to take your business to the next step, you need to get Flowlu.link. With an accessible price, you may finally get the most out of your favorite social media platform and attract more and more customers to your business. But more than this, Flowlu.link allows you to engage with your potential leads and customers as well. With an intuitive and simple platform that is easy to use, you don't need a programmer, coder, or designer. You can do everything by yourself. And if you need any help, Flowlu.link is just one click away.